Croatia is home to eight UNESCO World Heritage Sites, but Plitvice Lakes National Park is definitely one of its gems.
Visited by over one million people every year, it's impossible to plan a trip to Croatia without visiting the tranquil paradise found within this park.
Although it's well known by European travelers, it's often overlooked by hikers from the US. But as Croatia's oldest and largest national park, it's not to be missed.
In this guide, we'll give you some helpful tips for visiting Plitvice Lakes National Park and show you why this should be your next adventure.
Plitvice Lakes National Park History and Overview
Plitvice Lakes became a UNESCO World Heritage Site in 1979. It's home to 16 lakes, all interconnected and fed by the runoff from the mountains. The beautiful cascades and turquoise waters are breathtaking, and one of the best places to visit in Croatia.
The mineral composition around the lakes is what gives unique azure and turquoise colors to the water. Because the mountain water calcifies everything it comes into contact with, there isn't algae or mud, so you'll get incredible views of the local fish and wildlife.
How to Get to Plitvice Lakes National Park
There aren't any airports very close to the park, so be prepared to do some traveling to get to it. Fortunately, there are a few options in nearby cities for airports, bus stations, and car rentals.
Zagreb to Plitvice Lakes
There aren't any airports near Plitvice, but the best one to fly to is Zagreb Airport. It's about 140km away, but there are regular buses to the park from the main bus station. It'll take about two and half hours to get to the park, and there are day tours available to book on the Zagreb bus terminal website.
Dubrovnik to Plitvice Lakes
Another option is to fly to Dubrovnik, which is about 450km away from the park. From Dubrovnik, you'll need to get a day trip to Plitvice Lakes from Split and then a connection to the lakes. This is a much longer journey though, so it will eat into your day if you're planning a day trip to the lakes.
Rovinj to Plitvice Lakes
If you're traveling from Rovinj, a car is the easiest option. From Rovinj, take the 303 road to the E751 toll highway towards Rijeka, where you'll join the E65 Rijeka-Zagreb toll highway. From there, head south at Bosiljevo on the E71.
The drive from Rovinj to Rijeka takes about an hour and a half, and this is your last chance to stop before heading to the park.
The drawback of driving is parking once you reach the park. Most of Plitvice Lakes National Park doesn't allow cars, and car parks are sparse.
You could get a bus from Karlovac, but it will add considerable time to your journey.
Zadar to Plitvice Lakes
Zadar is technically the closest airport to the park, around 130km away. However, it's a smaller, less popular airport, so flights to it are less easy to book. If you do fly to that airport, take a connecting bus to Zadar Bus Station where you'll be able to book a bus directly to Plitvice.
Altogether, it takes around two hours to get to the ark from Zadar airport.
Busses to Plitvice Lakes
Since cars are restricted in Plitvice Lakes, the bus is the most popular way to get to the park. Here's a quick round-up of how long it takes to get to the park from each of the nearby bus stations:
Karlovac: 1 – 1.5 hours
Zagreb: 2 hours 20 minutes
Zadar: 2 hours
Split: 3.5 – 5.5 hours
Varazdin: 4 hours 20 minutes (only one bus per day)
Buses stop right outside Entrance 1 and Entrance 2 but ask the driver before you board to make sure they're heading to the entrance you want.
What to Know Before Visiting Plitvice Lakes National Park
If you've never been to Plitvice Lakes before, here are a few things you should know before you plan your trip:
You won't be able to walk the entire park during your visit, it's too big. Instead, you'll need to use the transfer service which takes you between the Upper and Lower lakes either by ferry or train.
It's not very wheelchair accessible, but it can be visited by those in wheelchairs or using walking aids. The Great Waterfall is visible right at Entrance 1, for example.
There's a bus that does a tour of some parts of the park which is great for anyone who struggles with walking too far or for little ones.
There are steps and areas with high water levels, so pushchairs can be difficult to use.
Cars are hugely restricted throughout the park, so you won't be able to drive around the park.
You can't swim in the lakes, there are rules in place to protect the wildlife.
Planning Your Trip to Plitvice Lakes National Park
Here is everything you need to know to plan your trip to Plitvice Lakes.
Cost to visit
The Plitvice Lakes National Park entrance fee for adults varies depending on the time of year:
Offseason (November to March) – 55 kunas ($7)
High season (July/August) – 180 kuna ($25)
Shoulder season (April to June & September/October) – 110 kunas ($15)
If you're driving, there are limited parking lots available at both Entrances 1 and 2, and it costs 7 kunas ($1) per hour.
The money raised from parking and entrance fees goes toward salaries for park staff within the park and the protection of the wildlife.
Best time to visit
Just like other tourist destinations in Europe, the most popular time of year to visit the Plitvice Lakes National Park is in July and August. This is when the Plitvice Lakes weather is nicest.
However, if you do go during this time, be prepared for large crowds and queues for some of the park trails. It'll also be harder to get a bus since the park gets around 11,000 visitors a day during peak season.
To avoid the crowds, visit during April, May, September, or October. This is what's known as the shoulder season when the weather is still pleasant but the park is much quieter.
The best time of day to visit Plitvice Lakes is morning (between 7 am and 10 am) or after 4 pm. The buses run between 11 am and 3 pm so these are the busiest hours on the walking trail.
What to pack
If you're visiting during the summer, Croatia can get extremely hot, with highs reaching over 86°F (30°C). For this season, pack lightweight clothing, a hat, sunglasses, and lots of sunscreen.
Once the sun sets, the evenings get much cooler, so a light jacket and trousers will be handy to avoid the chill. Sudden rain showers are common, even in the summer, so pack lightweight, moisture-wicking layers to keep cool and dry.
In the spring and autumn, the weather becomes very unpredictable. You'll be lucky to get sunshine, but you're more likely to see rain and wind. For these milder seasons, lightweight layers are best. T-shirts, vests, light jackets, and trousers will keep you dry if it rains but avoid weighing you down.
Visiting during the winter months is much less common, but you can visit the park any time of year. It gets very cold in the winter, so pack a warm hat, gloves, and a winter jacket for hiking.
No matter what time of year you go, always take hiking shoes or boots. A lot of the terrain is rocky and slippery, so sandals or flip-flops won't cut it. 
Where to stay
There are three hotels within Plitvice National Park that are all extremely popular:
Hotel Jezero
Hotel Bellevue
Hotel Plitvice
There are also six campsites around the park if you want to take a tent and camp overnight. The closest is Korana Camping, just outside Entrance 1, which has tons of facilities and space for 2,500 people. 
All other accommodation is outside the park in the surrounding areas:
Zadar – the closest city with many hotels to choose from.
Rijeka – the main seaport of Croatia.
Otocac – close to both Plitvice Lakes and Velebit Mountains National Parks.
Fuzine – a little further away, you'll need to take a five-hour bus ride to get to the park.
Senj – around two hours away from the park, Senj has two daily buses to and from Plitvice Lakes.
Where to Eat/Drink
There are a few tourist-friendly places to eat and drink around Plitvice Lakes. You'll be able to get traditional bowls of grah, sausages, and simple grills at many of the eateries.
The main park entrance also has lots of stalls where locals sell homemade food and treats, including the famous škripavac cheese and cherry strudels.
One of the most popular places for sit-down dining is Licka Kuca restaurant, but you'll also find pizzerias and cafes in the nearby villages of Grabovac and Rakovica.
Things to do and see in Plitvice Lakes
One of the great things about the Plitvice Lakes National Park is the ability to visit it in just one day. However, many tourists decide to make it a two-day trip to make the most of the entire park. 
Boat Ride
There are wooden rowing boats available for hire on the lakes, giving a more unique way to explore the waters. Since Plitvice Lakes swimming is prohibited, this is one of the best ways to see the crystal clear waters up close.
There are also stunning forests, caves, rivers, and waterfalls that are best explored by boat.
Hiking
There are six main hiking trails in the park: A, B, E, F, H, and K. These weave all over the park but are well signposted for hikers to follow.
Trail A, trial B, and trail F explore the lower lakes.
Trail E explores the upper lakes.
Trail H and trail K do loops of the entire park.
The longest loop is route K, which will take around six to eight hours to complete, depending on your speed. However, the shorter loops can be completed in around two hours at a slow pace.
There are detailed maps at the park entrances so you can decide exactly which route to follow and where it will take you.
Many of the routes overlap so you can switch to a shorter or longer one on your walk, depending on how you're feeling.
Upper Lakes
There is a hilly walk between the upper and lower lakes, which is why most tourists visit them separately and take the electric bus ride between the two.
The Upper Lakes are best visited in the morning when the crowds are thinner. Start at Entrance 2 and take the sightseeing train ride to the Upper Lakes to see the wild, untamed forest.
Galovac is definitely the most beautiful lake. It supplies water to a series of ponds linked by amazing waterfalls, making for an incredible photo opportunity.
Lower Lakes
At Lake Kozjak, there are electric boats that will take you across the lake to the Lower Lake hiking trails. Here is where you'll find steep cliffs, grottos, and caves to explore.
It's a completely different feeling to the Upper Lakes, which is why it's important to dedicate time to both parts of the park.
Milanovac Lake is the most popular, set within 20-meter-high cliffs and home to the stunning Milanovacki falls.
Great Cascades
Since the lakes are interconnected and fed by water from the mountains, the park is covered in other-worldly cascades. It's incredible to watch the amazing colors and movement formed by the mountain spring water running over the rock formations.
Waterfalls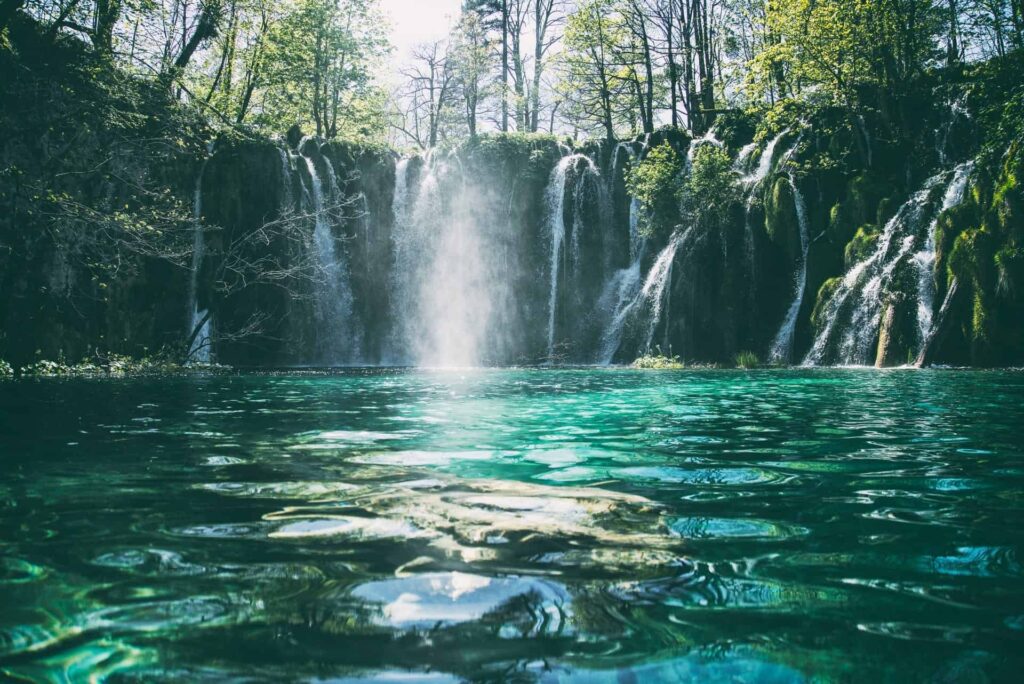 Just like Krka National Park, Plitvice Lakes National Park is renowned for its waterfalls. There are over 90 flowing in the park, with countless more cascades to find. Here are the most famous falls to visit while on your trip:
Sastavci Waterfalls
Also known as Sastavci Slap, this is widely thought of as the most beautiful waterfall in the park. It's found on the edge of Novakovica brod at the point where the Korana River drops down 26 meters.
Veliki Slap Waterfall
This is the highest waterfall in the park at 78 meters high. Also known as Large (Great) Waterfalls, it's found at the end of the Lower Lakes and is fed by the Plitvica Potok River.
Veliki Prštavac Waterfall
Found on the edge of Gradinsko Lake and Galovaki Buk, this is another beautiful waterfall that is stunning up close.
Slapovi Milke Trnine
At the barrier between Milanovac and Gavanovac Lake, the Slapovi Milk Trnine waterfall got its name from a famous opera singer. Renowned in the 19th century, Milka Trnina donated vast sums of money to help preserve and protect Plitvice Lakes, and so this waterfall was named after her.
Milanovački Slap
This waterfall is one of the shorter ones at ten meters high and sits on the barrier of Lake Kozjak and Milanovacko Jezero. It's a wide expanse and the perfect photo op.
Galovački Buk
This is one of the shortest waterfalls at Plitvice Lakes, at just six meters in height. You'll find it in the heart of Upper Lakes, fed by Milino Lake. It falls into Gradinsko Lake in a scenic cascade.
A Two-Day Trip in Plitvice Lakes National Park: Itinerary
If you want to take full advantage of everything Plitvice has to offer, you need a two-day pass. This will give you enough time to explore the entire park, beat the crowds, and avoid rushing. 
You can visit the park in just one day, but you'll have to deal with large crowds during peak times. On a two-day trip, you can take breaks at peak hours without worrying about the time.
Day 1
Start with the Upper Lakes on day one by heading to Entrance 2. Walk down to the ferry at the bottom of the trail and take the five-minute ride across Lake Kozjak.
You'll be dropped off at the start of trail E, and your adventure begins!
This is the most iconic trail, curving around the smaller, Upper Lakes. There are elevated wooden boardwalks that take you out over the lakes, offering incredible views of the waterfalls.
Trail E ends at the bus station, where you can get a ride back to your campsite or hotel. Or, you can link up with trail K and do some more hiking into the evening.
Day 2
For your second day, start at Entrance 1 and walk down to the Great Fall. The trail gets crowded by 11 am, so start early for a peaceful hike. 
Follow either trail B or trail H, which loop around the Lower Lakes.
The Lower Lakes are larger with more paths, waterfalls, and forests to explore. Almost all of the hiking trails lead to a dock where you can take a ferry ride across Lake Kozjak back toward Entrance 2 where the buses run.
Learn More About Plitvice Lakes Waterfalls
Whether you're planning a trip to Croatia or you're simply an avid lover of our world's national park, Plitvice Lakes should be on your bucket list.
It's a unique mix of fantastic hikes, stunning waterfalls, and unique geology that makes it feel like you're exploring another world.
If you are planning a trip to Plitvice Lakes and want to learn more about the waterfalls inside the park, check out our fall Plitvice Lakes waterfalls guide to plan your entire trip.