When it comes to National Parks, most people forget about the Black Canyon of the Gunnison in Colorado. In fact, it's one of the least visited national parks in the US.
But with 47 square miles of breathtaking scenery, it's an incredible place to go hiking. With 14 miles of scenic ravine, dozens of lookout points, and many challenging scrambles, it's a hiking trip worth taking.
In this guide, we'll show you the best Black Canyon hiking trails, where to find them, what to take with you, and how to make the most of your hiking trip.
Want to learn more about Western Colorado's National Park? Head to our Black Canyon of the Gunnison Guide for everything you need to know.
Day Hiking
If you only have a day dedicated to hiking the Black Canyon of the Gunnison, you'll need a car to see the entire South and North Rims. Each rim can be explored in a few hours, but it takes about two hours to drive between them.
If you want to explore the bottom of the canyon, you'll need to dedicate around six hours minimum, so it's hard to pack it all into a single day.
For those looking for easy hikes, stick to the outer rims of the canyon. You'll get magnificent views from the lookout points and can easily spend a full day exploring.
If you're looking for something a little more challenging. It's a vertical descent into the canyon and around two miles down. It's a hard hike that will take all day, but the bottom of the canyon is definitely worth it.
Bear in mind that there are no official trails at the bottom of the canyon and you'll need a permit to go in – but we'll cover that later in the guide.
Backpacking
If you want to take full advantage of Black Canyon, backpacking is the way to go. This will give you more time to explore the North and South Rim, and you'll get to see the canyon at night, which is something to behold.
Both the North Rim and South Rim have campsites available, both working on a first-come, first-served basis. The Black Canyon of the Gunnison North Rim is much quieter with only 13 small spaces available. It also doesn't have hookups and has minimal facilities. The South Rim is larger and has hookups if you want them.
Do You Need Permits for Hiking the Black Canyon?
You don't need permits for hiking the rims of the canyon. However, if you want to explore the inner canyon, you will need a permit. Both day and overnight passes are available.
These are free to get and have to be obtained on the day of the visit. You can reserve permits in advance, and there are limited numbers given out every day, so it's best to get there early.
You can pick up permits from both the South Rim Visitor Center and the North Rim Ranger Station.
What to Bring
What you take to Black Canyon will depend on the length of your trip. If you're planning a single day of hiking, you'll need:
Quality hiking boots with good ankle support
Snacks in sealed bags
1-3 liters of water, depending on the temperature (there are water points available at the Black Canyon of the Gunnison north or south rim campsites during peak season)
Sunscreen and lip balm
Sunglasses and a hat (if you go in the summer months)
A camera
Basic first aid kit
If you're planning a multi-day hike at Black Canyon, you'll also need:
Protein bars, snacks, and dried food to keep you going
A wet bag with wet wipes
A trail guide and map (to keep you on track)
Additional water depending on how long you're hiking
A camping pack with a tent and sleeping bag
The lighter you can pack, the better – some of the trails are tough. But make sure you bring all the essentials to keep safe.
Best Time to Hike the Gunnison Route
The best time to visit is during the Spring and Summer. Although the trails are more crowded, the conditions are much better for hiking.
You can visit the South Rim in the winter. Although access is limited, some people choose to go snow trekking along the closed South Rim road. The main road is maintained through the winter months by the park rangers for this purpose.
The North Rim road is closed entirely in the winter and not maintained for snow trekkers, so you won't be able to visit this side between November and April.
Black Canyon Hiking Trails
There are tons of incredible hiking trails to choose from in Black Canyon. Here are some details of our favorite Black Canyon of the Gunnison trails.
Oak Flats Trail
Length: 2 km
Elevation: 95 m
Type: loop
The Oak Flat Loop Trail is near Cimarron, Colorado. It's a fairly strenuous hike and will take you around 45 minutes to complete. It's one of the most popular with hikers and trail runners, so expect to see a lot of people in the warm weather.
The best time to do this Black Canyon trail is between March and October, and it's a dog-free trail, so leave your furry friends at home for this one.
Rim Rock Nature Trail
Length: 2.4 km
Elevation: 57 m
Type: out & back
Located near Montrose in Colorado, the Rim Rock Nature Trail is just under two and a half kilometers in length and is another moderately challenging trail with just a slight elevation.
This one is a much quieter route so you won't run into many other hikers. It'll take you around 45 minutes to complete and dogs are welcome on this Black Canyon trail (as long as they're on a leash).
Uplands Trail
Length: 3.54 km
Elevation: 89 m
Type: out & back
The Uplands Trail is another out and back trail that is around 3.5 km long. You'll find this one near Cimarron, Colorado and it's a nice easy route. It takes about an hour to complete, and it's a popular Black Canyon trail for walking, hiking, and running. Expect to see other hikers on this route, especially between April and November.
Cedar Point Nature Trail
Length: 0.64 km
Elevation: 16 m
Type: out & back
This is a nice short route near Montrose in Colorado, and will only take around 15 minutes to hike. This is a great choice if you're looking for a quick, easy route to get started with. If you get started early in the morning, it'll be much quieter. But it's another popular one with walkers and runners later in the day since it's pretty flat.
This one is dog-friendly and you don't need to keep them leashed, so expect to make some four-legged friends on this quick hike.
Warner Point Nature Trail
Length: 2.4 km
Elevation: 124 m
Type: out & back
The Warner Point Nature Trail is another easy route located near Montrose, Colorado. It arguably has some of the best views of any trail, so make sure you take your camera.
You'll hike this Black Canyon trail in just under an hour, and is a popular one for nature trips so expect to see some crowds.
It's best to visit this one between May and October for the best conditions, but it's considered an easy route so you won't have to deal with difficult terrain.
Chasm View Nature Trail
Length: 1 km
Elevation: 33 m
Type: loop
Chasm View Nature Trail is a short loop near Olathe, CO. You'll complete this hike in around 20 minutes and it's classed as an easy route to take. This one is a popular one for campers, although it's pretty quiet most of the time. Dogs are welcome but must be on a leash.
The main draw of this nature trail is the outlook at Chasm View. You'll get outstanding views over Black Canyon and a great look at the narrowest point to Painted Wall.
North Vista Trail
Length: 11 km
Elevation: 375 m
Type: out & back
If you're looking for something a little more challenging, try out the North Vista Trail near Crawford, Colorado. It'll take around three and a half hours to complete and has a couple of moderately steep ascends.
The best time to try this hike is between May and October, but it does get busy during the summer months.
Deadhorse Trail
Length: 6.6 km
Elevation: 171 m
Type: loop
The Deadhorse Trail starts at the Kneeling Camel View overlook. It's easy to miss since it looks like an old service road leading to vacant buildings (which is actually an old ranger station).
This Black Canyon trail leads away from the rim but does loop back to give incredible views of Deadhorse Gulch, which is a major tributary of the Black Canyon.
The loop is a moderate hike that will take around two hours to complete and is usually fairly quiet if you're looking for a peaceful hike.
Long Draw
Length: 2.75 km
Elevation: 489 m
Type: out & back
This one is a challenging route for anyone a little more experienced. Although it will only take around 1 hour 45 minutes to complete, it does have some steep ascends.
Dogs aren't allowed on this route, and it's unlikely you'll run into many others on this trail near Crawford, CO.
Slide Draw
Length: 1.93 km
Elevation: 321 m
Type: out & back
This Black Canyon trail is also near Crawford, Colorado, and is another challenging route. It'll take just over an hour to complete and you'll have to deal with a steep ascend and rough terrain.
It's also another quiet trail since dogs aren't allowed, so a great one for hiking.
Gunnison Route
Length: 2.9 km
Elevation: 543 m
Type: out & back
The Gunnison Route is only 3 km but will take around two hours to complete. It's a challenging route and a popular choice with hikers. It has a relatively high elevation, so expect some steep ascends and tricky terrain. For the best conditions, visit between May and October.
Tomichi Route
Length: 2 km
Elevation: 545 m
Type: out & back
Found near Cimarron, CO, the Tomichi Route is considered a challenging hike. It's a popular one for fishing since it gets nice and close to some great fishing spots on the way, and it's a popular one with hikers too.
It takes around one hour and 45 minutes to complete and has a steep elevation to contend with. You'll probably pass by fishermen on your hike but it's a nice, quiet route most of the year.
Devil's Backbone Route
Length: 7 km
Elevation: 172 m
Type: out & back
The Devil's Backbone Route starts at the East Portal Trailhead in Estes Park, CO. The beginning of the route is fairly easy, starting with a riverside stroll between the canyon walls. The route continues up a ridge known as the Devil's Backbone, which requires scrambling and route finding.
After the scramble, you'll be able to carry on for another few kilometers before it gets too steep and narrow and you have to turn back. The reward is some incredible views of the canyon, and you might even run into horseback riders and mountain bikers in areas.
North River Route
Type: out & back
This is one of the easiest of the inner canyon routes, but it can only be reached by boating across from the southern side of the Gunnison River. You can only cross the river at certain times when it's safe so if you're unsure, speak to the rangers.
It's an unmaintained route that requires some route-finding, but it's a gentle riverside hike along the towering cliff walls. There is one lower ridge that requires scrambling, but other than that this is an easy route compared to the other inner-canyon hikes.
You'll have to decide for yourself how far you go before turning back and getting back to the boat launch.
Hikes along the Canyon Rim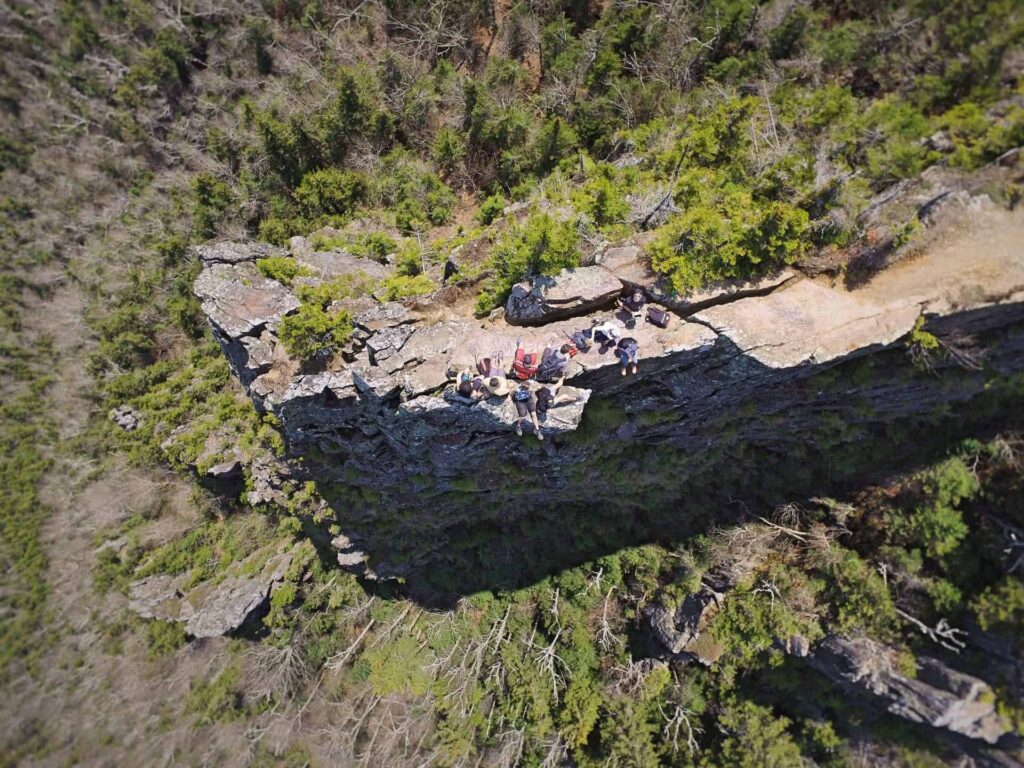 The Black Canyon of the Gunnison is split into the North Rim and the South Rim. There are different hikes on each side, and it takes about two hours to travel between them by car.
On the South Rim, there are 12 different viewpoints that are connected by different hikes and roads:
Tomichi Point
Gunnison Point (Visitor Center)
Pulpit Rock Overlook
Cross Fissures View
Rock Point
Devil's Lookout
Chasm View (South Rim)
Painted Wall View
Cedar Point
Dragon Point
Sunset View
High Point
If you're strapped for time, you can actually drive between each viewpoint and then take on smaller hikes to get to each one.
The entire North Rim is only four miles long, starting at Chasm View and ending at Kneeling Camel View.
There are six viewpoints altogether, each accessible via a short Black Canyon trail:
Chasm View (North Rim)
The Narrows View
Balanced Rock View
Big Island View
Island Peaks View
Kneeling Camel View
When you're choosing the hikes, make sure to check out the difficulty and elevation involved. Some are relatively flat and short, others require some route-finding so are more advanced.
Inner Canyon Hikes
It's much more challenging to hike down to the inner canyon, but it's well worth the effort.
Although it's only about a mile down into the canyon, it's a tough hike down an almost vertical drop. Hikers are expected to be experienced and physically fit to take on the depths of the Black Canyon.
You can get to the inner canyon from the North and South Rims, as long as you have your permit. There are no official trails down there, but there are some great things to do once you've reached the bottom.
Wildlife watching
At the Visitor's Center on the South Rim, there's a board full of recent wildlife sightings and the locations of each. Animals are very at home in the inner canyon because they're undisturbed by people, so you'll get to do some incredible wildlife watching while hiking in the Black Canyon wilderness.
If you're lucky, you'll come across mule deer, peregrine falcons, swifts, and swallows. You might even spot a mountain lion or ringtail, so keep your wits about you.
Stargazing
You have never seen a sky as dark as the one above the Black Canyon at night. It's recognized as an International Dark Sky Reserve and is an incredible place to see the Milky Way peeking out over the sheer black cliff walls.
Watch the sunset
As the sun goes down over the Black Canyon, the colors of the walls and canyon floor become incredibly vibrant in the low light. You really should camp to take full advantage of hiking the inner canyon, it's true when they say it comes to life at night.
Tips to Have the Best Experience
If it's your first time visiting the Black Canyon of the Gunnison, here are our top tips to make sure you have a great experience.
Talk to your kids beforehand and make sure they know to always stick close – it's easy to get lost on some of the longer trails if they wander off.
There are no restaurants or eateries in the national park, so take plenty of food and snacks with you for your trip.
There are toilets at the Visitor's Center, Pulpit Rock, Sunset View, High Point, and Tomichi Point – plan bathroom breaks accordingly.
In the summer, the sun is brutal. Take sunscreen, hats, and plenty of water.
Take the elevation seriously! The park sits at 8500 feet, so altitude sickness can be an issue to look for.
Poison ivy is known to grow near the Gunnison River, make sure you know what it looks like so you can avoid it when hiking.
There's an Astronomy Festival at Black Canyon every year that includes talks, activities, and guest speakers – check it out if it's during your visit.
Only three of the South Rim overlooks are mobility accessible: Pulpit Rock, Chasm View, and Sunset View.
Planning a Camping Trip to Black Canyon?
Considering it's one of the lesser-known national parks, Black Canyon of the Gunnison is an incredible place to hike. With dramatic views, a range of trails, and plenty of family-friendly spots, it should definitely be your next hiking adventure.
The best way to explore the Black Canyon hiking trails is by camping. There are so many trails that it's hard to pack it all into a day visit.
If you're thinking about camping at Black Canyon, make sure to read our camping guide for the best places to camp and our top tricks to make the most of your trip.