In our modern world, moving at such an ultra-fast pace, it can feel like our cities are getting stripped of their history and unique architecture. In Japan, the new life expectancy of a building is just thirty years.
But that doesn't mean all is lost. There are still incredible examples of impressive architecture all around the world.
In this post, we've rounded up 25 of the top destinations for architecture fans to visit.
Istanbul, Turkey
Istanbul is a beautiful mixture of two conquering empires and sits at the crossroads of culture and architecture. The Hagia Sophia mosque is perhaps one of the most stunning examples of design in the city, with a Byzantine dome, mosaic pattern, and Islamic calligraphy adorning the structure. On your visit, you'll hear the call to prayer from the Muezzin every day. 
Marrakech, Morocco
Interior courtyards and open skylights are some well-known architectural elements found in Marrakech. With an emphasis on privacy, they're essential to Islamic design that spanned the 12th to 17th centuries. 
You'll also notice a lack of street-level windows, giving the architecture of the city a sense of intimacy.
Marrakech is filled with riads, mosques, minarets, and mosaics, making it a beautiful and interesting city for architects to visit.
Brasilia, Brazil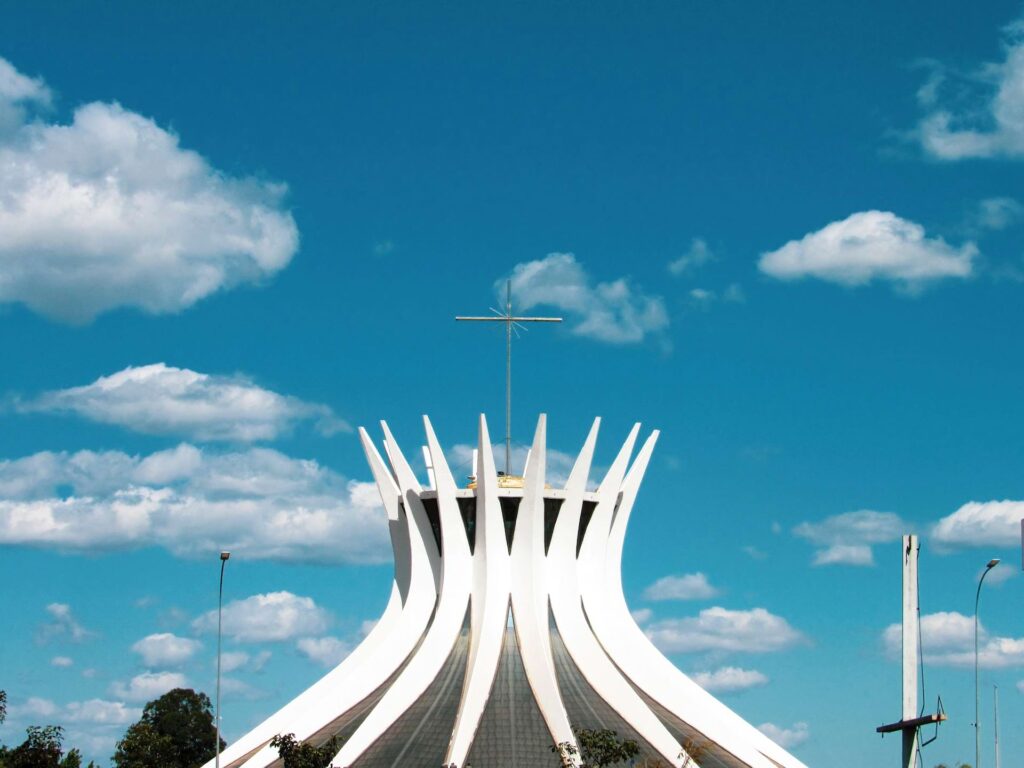 In 1956, President Juscelino Kubitschek began a plan to build a new capital city in the almost barren center of the country. And Brasilia was born. The main architect employed for the project was Oscar Niemeyer, and within just a couple of months, he had designed the government, commercial, and residential buildings for the new town. 
The main buildings are the National Congress of Brazil, the Cathedral of Brasilia, and the Attorney General's Office. You'll notice the use of dynamic lines, sharp contrasts, and continued use of concrete and glass, all of which give the capital architectural unity.
Athens, Greece
No list of architectural wonders would be complete without mentioning the world-renowned ruins of Athens. The stonework dates back to 400 BC, with temples still held up with centuries-old columns. 
For the perfect example of Classic architecture, visit the Temple of Hephaestus, the Temple of Olympian Zeus, or the iconic Parthenon – all of which will transport you back in time to Ancient Greece.
St. Petersburg, Russia
During the 18th century, the Rococo movement developed as a way of pushing back against the strict, symmetrical Baroque style that was dominant at the time. 
Both movements are known for richly decorated architecture, but the Rococo style is specifically known for pale colors, curves, and more light-hearted themes.
The Catherine Palace is the most famous example in St. Petersburg, commissioned by Catherine I. But see if you can spot the differences in the competing architectural styles on your visit.
Rome, Italy
The Romans were some of the world's greatest innovators, and the city of Rome has adapted to almost every architectural style since the ancient Classical movement. The city now holds elements of Romanesque, Gothic, and Renaissance styles, all interwoven into the fabric of the city. 
Of course, Rome is still one of the largest centers of 17th-century Baroque architecture – seen in the grand opulence and contrast. In St Peter's Square, you'll see this in person.
Elaine from The Family Cruise Companion is a regular visitor to Rome, "As an expert on cruise destinations around the world, one of my favorites is Rome. This is such a beautiful city, and I never get tired of visiting the outstanding architecture."
Cambodia
Cambodia is known for the New Khmer architectural movement that took place during the 1950s and 60s. It blended Modern movements with the Cambodian traditions of Angkor. 
The Head of State, Norodom Sihanouk, envisioned Cambodia as a modern, developed country that was integral to the world. As he modernized the country, this new style became evident in the infrastructure and almost every sector of the country.
Chandigarh, India
After the partition of 1947, Prime Minister J. Nehru appointed architect Le Corbusier to redesign the city. As a modernist, Le Corbusier was tasked with creating a progressive, modern city that broke away from the past. 
Chandigarh is now a super-grid of exposed masonry and concrete, filled with eccentric sculpture work. The incredible architecture has made Chandigarh a learning hub for design students from around the world.
New Orleans, Louisiana
New Orleans is a destination for partiers thanks to its generous drinking laws. However, it also holds a rich architectural history, providing structures and scenery like no other city in the States. 
In the French Quarter, you'll find a Classic style with grand balconies. Whereas the Tremé and Marigny neighborhoods ooze Creole charm.
Zack from Real Estate License Wizard is a fan of the residential architecture in New Orleans, "The Spanish-style bungalows, Greek Revival Mansions, and Creole cottages make New Orleans an incredible city for residential architecture – you'll get lost walking along the tree-lined streets admiring the stunning homes on offer."
Hanoi, Vietnam
The French Colonial style was, as the name suggests, used by the French during colonization. It's still prominent in Southeast Asia and notable in Hanoi, Vietnam. 
The Presidential Palace is a beautiful example, completed in 1906, as well as the Hanoi Opera House, which was completed in 1911. Both of the yellow, ornate buildings are reminders of French rule.
Rio de Janeiro, Brazil
Rio de Janerio is UNESCO's first World Capital of Architecture, named for its blend of hundreds of years of historic and modern architectural styles. 
Most tourists visit the Old Cathedral, Largo do oticário, and Parque Lage, all of which are impressive feats of architecture. However, there are also some impressive modern structures that can't be ignored.
The Santiago Calatrava Museum of Tomorrow and the elegant Cidade das Artes are two buildings that are interesting both inside and out.
Tel Aviv, Israel
Tel Aviv's "White City" is a UNESCO World Heritage Site and contains around 4,000 International Style buildings. Most of the buildings were constructed in the 1930s and 40s to accommodate the Jewish immigrants fleeing European persecution. 
Bauhaus-trained architects cleverly blended modern style with functional buildings with curved lines and a Mediterranean color palette, giving what is now a beautiful city for architects to visit.
Barcelona, Spain
Barcelona is a world-famous seaside resort known for its tapas and wine. However, it's also brimming with unbelievable Gothic and Modern architecture. 
Perhaps the most famous is the work by 19th-century architect Antoni Gaudi, whose work is almost untouched today. His unfinished masterpiece, La Sagrada Familia, and his public park system, Park Güell, are two little-known gems that most tourists don't see.
Melbourne, Australia
Melbourne is Australia's center of contemporary architecture, filled with striking residential neighborhoods, design markets, and elegant architecture. Walking through the city, you can't help but look up and admire the grand architecture of Melbourne's heritage buildings. 
The Royal Exhibition Building is a must-see, designed by architect Joseph Reed, who also designed the Melbourne Town Hall and the State Library of Victoria.
Miami, Florida
Miami Beach's Historic District is the perfect destination for architecture fans. It's home to the largest collection of Art Deco architecture in the world. 
Back in the 1920s and 30s, architects wanted to transform Miami into an ultramodern tourist destination. The use of Deco's symmetry and geometrical patterns, floral motifs, and pastel colors transformed the area into a luxury destination for visitors.
The fluidity of the Art Deco movement echoes through Miami Beach and represents everything that the city still is today.
Montreal, Canada
For well over a century, Montreal was Canada's industrial and financial capital. It was once filled with warehouses, mills, and refineries that put Montreal on the map. 
This industrial age left its mark on the city, especially in the Downtown and Old Montreal areas. Many old buildings have been carefully restored, including the Canadian banks on Saint Jacques Street.
Helsinki, Finland
Nordic Minimalism is king in Helsinki, especially in Senate Square. In fact, the entire city center typifies Neoclassical architecture with its grand scale and simple geometric forms. 
Although the Byzantine-Russian architectural style isn't represented in Helsinki, it is shown beautifully in the Uspenski Cathedral, which was built in 1868, the largest orthodox church in Western Europe.
Matt Hagens from Obsessed Woodworking is passionate about woodwork, and its contribution to modern architecture, "the new wooden property being built in the South Harbour of Helsinki is an impressive project. It shows us the importance of sustainability in architecture and how important woodwork still is to our cities."
Mexico City, Mexico
Mexico City is a massive metropolis and a source of great inspiration for artists and architects. Many have declared it the "new Berlin". However, we think it has its own identity with a unique mix of traditional and contemporary cultures. 
The Pre-Hispanic ruins, modernist buildings, and art galleries show incredibly contemporary architecture and have a distinctly Mexican style.
Dubai, UAE
Dubai is known for its luxury and nightlife. The largest city in the United Arab Emirates, it possesses a star power that has grown over the last couple of decades. 
Dubai's skyline is world-famous, including the world's tallest building – Burj Khalifa. It sits at a dizzying height of 2,717 feet tall and is a must-visit for those interested in commercial architecture.
Architects such as Rem Koolhas and Zaha Hadid worked tirelessly to make Dubai's skyline the defined landmark it is today. The Cayan Tower and archipelago (known as "The World") are just two examples of the impressive feats of architecture you'll see in Dubai.
Boston, Massachusetts, USA
Boston was founded by Puritan settlers who brought British architecture along with them. This quickly morphed into a Colonial style mixed with Georgian architecture. The Paul Revere House, Old State House, and Faneuil Hall show this original style well. 
This is another city focused on the importance of sustainability; as Bary Gray from The Tool Square Square shares, "architects at MIT are working on an impressive five-story building in Boston made from cross-laminated timber. It's great to see woodwork becoming an important part of sustainable architecture in the US."
Florence, Italy
For those who love the Renaissance aesthetic, you can't beat Florence, Italy. This was the birthplace of the late-14th-century movement and is still adorned with geometrical structures, columns, and domes. 
Florence quickly moved away from the harsh lines and irregular forms of the Medieval period, replaced by the beautiful symmetry that's visible in the Duomo and Basilica of Santa Maria Novella.
Cairo, Egypt
Egypt is considered by many architects to be the source of Art Deco architecture, containing a few Art Deco buildings. However, it's a modern city that experienced expansive growth in the 20th century. 
Cairo is rich in modern architecture. However, the respect that Egypt holds for its history is having a devastating effect. Preservation laws have pushed citizens out of historic buildings to turn them into museums, leaving many without businesses.
This has led to some owners destroying buildings before they can reach their centenary in order to stop them from getting taken away.
It's an understandable tragedy for the architecture, and anyone who wants to get a glimpse of the history of Cairo should do it sooner rather than later.
Oxford, England
Oxford is defined by its mid-19th-century Gothic Revival skyline. Just like its university, the city has a sense of academic gravity, perhaps heightened by the medieval stonework and grand towers. 
Poet Matthew Arnold called Oxford the city of dreaming spires, and this sums up the architecture of this English gem well.
Oxford has some grand plans for creating a sustainable city, without compromising on its beautiful architecture, as Adam from Eco Energy Geek explains, "Oxford city has asked for funding to 'retrofit for the future'. The city aims to improve the sustainability of hundreds of homes without compromising on the city's rich history – it's great to see."
Copenhagen, Denmark
Denmark is regularly rated as one of the happiest countries in the world, and even the architecture helps toward that badge of honor. 
Its capital city, Copenhagen, is in the midst of its Golden age. International architects such as Henning Larsen and the Bjarke Ingels Group have stamped their mark on this city with sustainability and heritage in mind.
Buildings in Copenhagen are not only beautiful but beneficial to the planet. The juxtaposition between the new and old give Copenhagen a unique personality; from the Copenhagen Opera House and royal Christiansborg Palace to the bow-tie-shaped 8 House and suburb of Ørestad, there is a lot for architects to marvel at in this city.
Shanghai, China
For those passionate about contemporary architecture, this is no comparison to Shanghai. The sleek, smart buildings and clean skyline are something to behold. Although the streets are incredibly crowded, you'll be struck by the towering structures and attention to detail in the architecture. 
The Jin Mao Tower and Shanghai World Financial Center are two of the tallest buildings in the world, but just down below, you'll be able to see some of the historical Chinese buildings that still line Nanjing Road.
Don't miss out on the Baoshan District's Museum of Glass – it's a playground for architects.
Which Destination Will You Choose?
Whether you're a professional architect or simply have a passion for architecture, there are so many incredible places to visit around the world.
From the classic sculptures of Athens to the stark lines of Shanghai, the only real problem is figuring out where you'll go first.